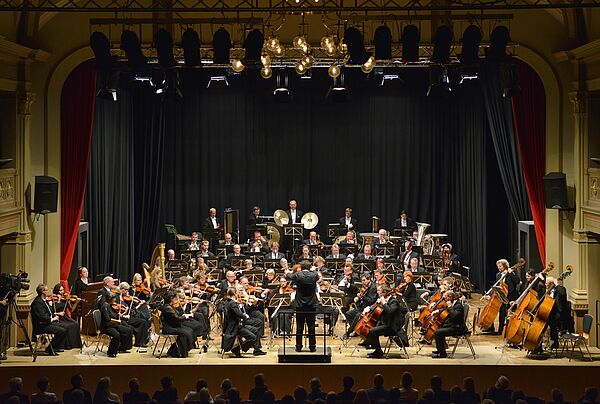 A court orchestra has been shaping the city's cultural life since 1651 until the dissolution of all duchies in 1918 and became an attraction for several renowned musicians and composers. Although the continuity of a local court ensemble over many years was missing in the neighbouring ducal seat of Eisenach, a vibrant music history can still be recorded there through the works of Johann Sebastian Bach and Georg Philipp Telemann. Eisenach developed into a popular venue for concert, opera, operetta, ballet and theatres performances thanks to the hard work of local music associations and regular visits by guest ensembles.
Besides various challenging series of concerts with renowned musical guests at both locations, the new orchestra's varied remit includes accompanying ballet productions and presenting chamber music concerts. The musicians' repertoire is therefore very diverse. It encompasses virtually all musical periods from Baroque to Classic, Romantic and contemporary music and also includes music theatre and film music alongside symphonic works. Besides the high quality and claim of maintaining symphonic traditions, the orchestra is developing the concerts it offers further with new formats too. The Philharmonic Special series in particular offers exceptional programmes and venues to surprise new audiences with the unique experience of listening to classical music.
The Thüringen Philharmonie Gotha-Eisenach dedicates itself to young musical talent in various ways, such as regular children's and youth concerts, school visits, family concerts and also rehearsals for conducting and composition students in cooperation with the University of Music Franz Liszt Weimar and the German Music Council.
Regular invitations to guest performances on concert stages in the region, in Germany's musical centres and abroad are additional confirmation for the orchestra's far-reaching reputation.
Contact:
Thüringen Philharmonie Gotha-Eisenach
Reinhardsbrunner Str. 23, 99867 Gotha
Phone: +49 (0) 3621 / 751 776
Email: info@thphil.de
Website: www.thphil.de
Dates & information:
You can find all the information and concert dates for the current season in the printed programme, which is available from Gotha / Gothaer Land tourist information or at www.thphil.de.