Gotha Tourismus
Neugestaltung der
Tourist-Information Gotha
Das vom Freistaat Thüringen geförderte Projekt, die Neugestaltung der Tourist-Information Gotha am neuen Standort Hauptmarkt 40, wurde durch Mittel der Europäischen Union im Rahmen des Europäischen Fonds für regionale Entwicklung (EFRE) kofinanziert.
Dieses Projekt wird von der Europäischen Union (EFRE) und dem Freistaat Thüringen (Thüringer Ministerium für Wirtschaft, Wissenschaft und Digitale Gesellschaft) kofinanziert.

The city, that was once a ducal seat extends you an invitation
Gotha / Gothaer Land tourist information
Besides this, several historic sites are ports of call for amateur historians and art enthusiasts inviting them to deeply immerse themselves in the ducal seat's history. Yet Gotha does not just shine in its glory days of the past but also has a lively cultural scene to offer that impresses guests from near and far time and time again with festivals, concerts and exhibitions.
We would be thrilled to welcome you to our beautiful city with our ducal hospitality and lively cultural life.
Gotha / Gothaer Land tourist information
Hauptmarkt 33, 99867 Gotha
Telefon: + 49 (0) 3621 / 510 450
Email: tourist-info@gotha-adelt.de
Opening hours
Monday to Friday: 10 a.m. - 6 p.m.
Saturday: 10 a.m. - 3 p.m.
Sunday: 10 a.m. - 2 p.m. (May to September)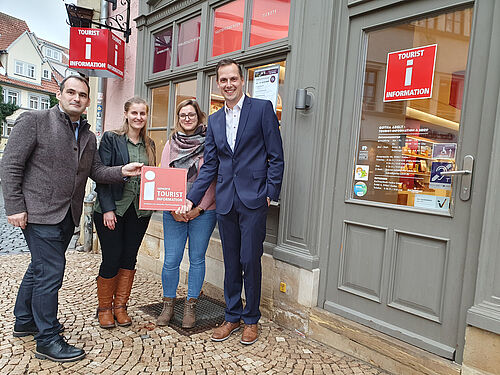 Die Tourist Information Gotha ist mit dem weißen "i" auf rotem Grund des Deutschen Tourismus Verbandes zertifiziert.
Das Qualitätssiegel gewährleistet ein standardisiertes Verfahren zur Bewertung von Tourist-Informationsstellen anhand von 14 Mindestkriterien sowie weiterer 40 i-Marke Anforderungen an die Angebots- und Leistungsqualität.
The services we offer
Tourist information & services
Sales of tickets, publications, cycling and hiking maps, the ThüringenCard
Guided tours
Accommodation booking service
Bike hire
Advice & organisation of programme for your stay in Gotha
You can find more information about life in Gotha, politics, the economy and work at www.gotha.de.
Barrierefreiheit
Reisen für alle

Die Gothaer Tourist-Information wurde nach den Kriterien der bundesweiten Kennzeichnung "Reisen für Alle" eingestuft und kann nun bis 2025 die Auszeichnung "Barrierefreiheit geprüft" tragen und nutzen.
Allgemeine
Reisebedingungen
Bei der Vermittlung von Leistungen kooperierender Leistungsträger tritt die KulTourStadt Gotha GmbH nicht als Reiseveranstalter auf.
Die KulTourStadt Gotha GmbH haftet entsprechend nur für die ordnungsgemäße Erbringung ihrer Leistungen. Für Fremdleistungen haftet Sie nicht. Das Gastgeberverzeichnis im Bereich "Übernachten" dient lediglich der Absatzförderung und Information. Aus falschen Angaben oder nicht erfüllten Leistungszusagen des jeweiligen Leistungsträgers kann keine Schadensersatzpflicht gegenüber der KulTourStadt Gotha GmbH abgeleitet werden. Für die auf der Internetseite angebotenen Leistungen Dritter gelten deren Geschäftsbedingungen.
Bei den Pauschalangeboten der Hotels bzw. Leistungsträger tritt die KulTourStadt Gotha GmbH als Vermittler auf, Vertragspartner ist das gebuchte Hotel bzw. der Leistungsträger.

Vorfreude ist die schönste Freude – besonders wenn es um den wohlverdienten Urlaub geht. Doch es gibt leider so einige Gründe, diesen nicht antreten zu können bzw. ihn abbrechen zu müssen. Die HanseMerkur bietet mit ihrer Reiserücktrittsversicherung vor der Urlaubsreise und mit ihrer Urlaubsgarantie (Reiseabbruchversicherung) während der Reise den passenden Schutz. Profitieren Sie von den Leistungen unseres Partners und buchen Sie diese bequem online.